Company Highlights Recent Achievements and Looks Toward an Active Milestone Rich 2019
Q BioMed Inc. (OTCQB: QBIO), a commercial stage biotechnology company provides the following update to its shareholders and interested investors.
Dear Investors and Friends of Q BioMed,
Firstly, thank you for your support and interest in our company. We are committed to making QBIO a huge success. We believe we have built a solid and extremely valuable pipeline, and with the recent acquisition of the global brand Metastron from GE Healthcare, we are very well positioned to generate revenue in 2019 and beyond! Preliminary interest from larger pharma companies in our portfolio has also strengthened our conviction in the value we have built over these short three years. We have made great progress in each of the assets we are developing.
We are committed to growing and expanding the reach of our cancer palliation drugs. While Metastron is prescribed in 22 countries today as a non-opioid therapy for the debilitating pain associated with metastatic skeletal cancer, we believe Metastron has huge untapped potential in expanded cancer therapeutic indications. The opioid crisis is everywhere and as physicians curtail their use of opioids, Metastron is going to be more relevant than ever. It's been proven safe and effective over many years of use. Furthermore, we believe that cancer palliation drugs like Metastron not only treat pain but can also improve survival when used in combination with other therapies, or even when used alone. Q BioMed plans to conduct supportive clinical trials to highlight what we believe are ignored clinically relevant datasets which may demonstrate improved survival. Stay tuned for more updates as we complete the market authorization transfers in the 22 countries where Metastron is approved. This drug is a substantial opportunity for Q BioMed. A very similar drug with a very narrow indication currently does almost $800 million a year in revenue!
Looking beyond our radiopharmaceutical oncology products, our pipeline chart includes a deep bench of drug candidates with significant value in large markets of underserved patients.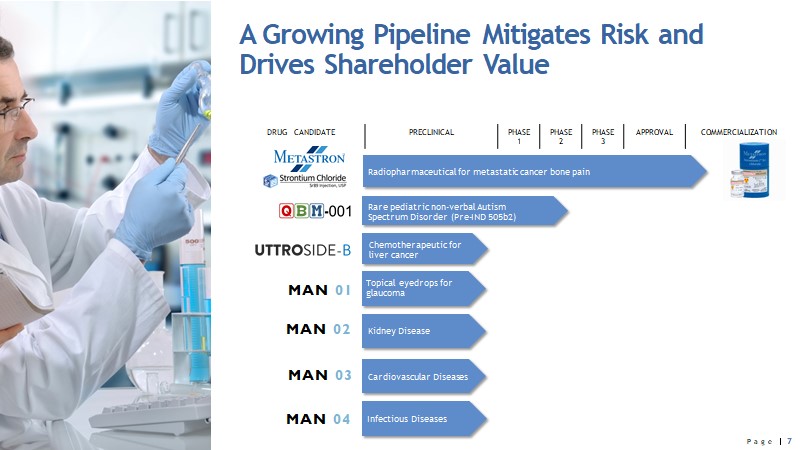 QBM-001 is a potential orphan drug treatment for young children and toddlers who are on the autism spectrum and are minimally verbal or non-verbal. Imagine the heartache and complications that arise from this condition for their families and in their surroundings. We are very hopeful that this therapy, comprised of very safe and well-known active ingredients, can make a huge difference for these desperate children and families. There is currently NO treatment for this subgroup of autistic children. We look forward to the completion of formulation and manufacturing by the end of Q2 2019 and a subsequent filing of an IND. The green light will allow us to commence a relatively short pivotal clinical trial of QBM-001 in Q3 2019. This trial is expected to take about a year to 18 months and we could have interim data reviewed by Q1 of 2020. Positive results from that readout could be a significant catalyst for a drug candidate that we hope to be a blockbuster billion-dollar asset! In a therapeutic space with no competition, this is a major orphan drug product candidate with multi-billion-dollar annual revenue potential starting in as little as 2 years from the initiation of the trial. Stay informed as we progress this to the clinic in 2019. We recently announced a strategic partnership with SRI International on this project. They are a leader in formulation and development in this space. There is more to come in the next few months.
Uttroside-B is our liver cancer orphan drug candidate. Liver cancer is the only cancer that has not seen an improvement in outcomes over recent years and incidence is expected to continue to grow until 2030. There are approximately 40,000 cases in the US and over a million worldwide. The prognosis is notoriously poor. Untreated patients in the US have a life expectancy under four months, while treated patients have a 2 year-survival rate of around 50%. We need better therapeutic options. Our early stage data suggests that this molecule could be very effective - potentially 10X more effective than current treatments. That's why we are bringing this product closer to a proof of concept trial. Once demonstrated, we believe there will be a significant opportunity to realize a return on our investment in a partnership on this project. The current first line therapy is a drug with sales of a billion dollars per year. Our goal is to have the proof of concept completed in 2019. Again - stay tuned for developments on this important and valuable asset in our pipeline.
Our MAN-01 program, is our topical treatment (eye drop) for glaucoma. It reduces pressure build up in the eye by assisting with, and correcting, drainage problems in tiny vessels in the eye. It is the ONLY drug targeting these unique and extremely important vessels. Over 70 million people suffer from glaucoma around the world. Treating glaucoma in our MAN-01 program is a blockbuster opportunity on its own, however our research shows that the same drug action may ameliorate vessel damage in several other diseases such as: kidney disease (MAN-02), cardiovascular disease (MAN-03), and providing host-defense against infectious diseases (MAN-04) like the flu and even Ebola. We believe these programs comprise a multi-disease platform technology that has several multi-billion-dollar applications. We will be making more announcements about the MAN-01 program, and the platform, over the coming weeks and months.
We would be remiss if we didn't address the performance of the stock in recent months. While we don't like to comment on variables that are out of our control, our product offerings have expanded through the acquisition of Metastron and our portfolio value has increased as we approach some major milestones on each asset. We are committed to our plan and will continue to advance these drugs, thereby creating not only economic value, but real-world life altering opportunities for the patients that we are hoping to help.
Thank you again for your interest in Q BioMed. We appreciate your support and wish you a healthy and happy 2019!
Please visit http://www.QBioMed.com and sign up for regular updates and additional information and see our recent 8Ks and SEC filings for more information.
Follow us on Social Media @QBioMed
About Q BioMed Inc.
Q BioMed, Inc. is a biomedical acceleration and development company. We are focused on licensing and acquiring biomedical assets across the healthcare spectrum. Q BioMed is dedicated to providing these target assets the strategic resources, developmental support and expansion capital they need to meet their developmental potential so that they can provide products to patients in need.
Forward-Looking Statements
This press release may contain "forward-looking statements" within the meaning of Section 27A of the Securities Act of 1933 and Section 21E of the Securities Exchange Act of 1934. Such statements include, but are not limited to, any statements relating to our growth strategy and product development programs and any other statements that are not historical facts. Forward-looking statements are based on management's current expectations and are subject to risks and uncertainties that could negatively affect our business, operating results, financial condition and stock price. Factors that could cause actual results to differ materially from those currently anticipated are: inspection of the proposed third-party manufacturing facility by the FDA or other comments or requests from the FDA in connection with the above mentioned regulatory filing; failure of the proposed third-party manufacturing facility to pass an inspection by the FDA; regulatory risks; risks related to our growth strategy; risks relating to the results of research and development activities; our ability to obtain, perform under and maintain financing and strategic agreements and relationships; uncertainties relating to preclinical and clinical testing; our dependence on third-party suppliers; our ability to attract, integrate, and retain key personnel; the early stage of products under development; our need for substantial additional funds; government regulation; patent and intellectual property matters; competition; as well as other risks described in our SEC filings. We expressly disclaim any obligation or undertaking to release publicly any updates or revisions to any forward looking statements contained herein to reflect any change in our expectations or any changes in events, conditions or circumstances on which any such statement is based, except as required by law.
Contact:
Denis Corin
CEO
Q BioMed Inc.
+1(646)884-7017