Distinguished Ophthalmology Specialist Brings Wealth of Experience
NEW YORK, Sept. 17, 2018 /PRNewswire/ — Q BioMed Inc. (OTCQB: QBIO), a commercial stage biotechnology acceleration development company, is pleased to announce that Rajendra Apte, MD, PhD has joined its Advisory Board contributing his extensive experience in the field of ophthalmology (https://wuphysicians.wustl.edu/for-patients/featured-physicians/rajendra-apte-md-phd).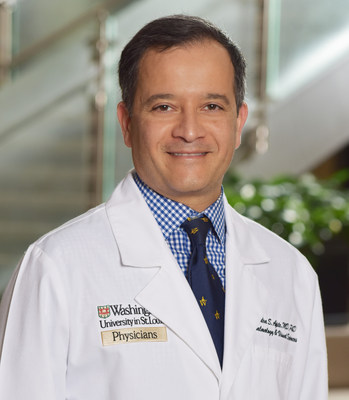 Dr. Apte is the Paul A. Cibis Distinguished Professor of Ophthalmology and Visual Sciences at Washington Universityin St. Louis. His areas of specialty include age-related macular degeneration, diabetic retinopathy and vascular diseases, retinal surgery, macular holes, retinal detachments, aging, retinal neurodegeneration, inflammation and metabolism.
Dr. Apte is currently running a human study to investigate the correlation of GDF-15 levels with glaucoma disease severity and progression. Success in this program will provide a new and valuable tool for physicians to monitor disease treatment and progression.
"We are honored to have Dr. Apte join our distinguished team of scientific advisors," said Denis Corin, CEO of Q BioMed. "His experience in the field of ophthalmology will add significant value to our portfolio technologies such as MAN-01, a small molecule for treatment of Primary Open Angle Glaucoma and our potential companion diagnostic, GDF-15, a biomarker to detect severity of glaucoma in patients."
About Q BioMed Inc.
Q BioMed, Inc. is a biomedical acceleration and development company. We are focused on licensing and acquiring biomedical assets across the healthcare spectrum. Q BioMed is dedicated to providing these target assets the strategic resources, developmental support and expansion capital they need to meet their developmental potential so that they can provide products to patients in need.
Please visit www.qbiomed.com and sign up to receive regular updates. Follow us on social media @QBioMed.
Forward-Looking Statements
This press release may contain "forward-looking statements" within the meaning of Section 27A of the Securities Act of 1933 and Section 21E of the Securities Exchange Act of 1934. Such statements include, but are not limited to, any statements relating to our growth strategy and product development programs and any other statements that are not historical facts. Forward-looking statements are based on management's current expectations and are subject to risks and uncertainties that could negatively affect our business, operating results, financial condition and stock price. Factors that could cause actual results to differ materially from those currently anticipated are: inspection of the proposed third-party manufacturing facility by the FDA or other comments or requests from the FDA in connection with the above mentioned regulatory filing; failure of the proposed third-party manufacturing facility to pass an inspection by the FDA; regulatory risks; risks related to our growth strategy; risks relating to the results of research and development activities; our ability to obtain, perform under and maintain financing and strategic agreements and relationships; uncertainties relating to preclinical and clinical testing; our dependence on third-party suppliers; our ability to attract, integrate, and retain key personnel; the early stage of products under development; our need for substantial additional funds; government regulation; patent and intellectual property matters; competition; as well as other risks described in our SEC filings. We expressly disclaim any obligation or undertaking to release publicly any updates or revisions to any forward looking statements contained herein to reflect any change in our expectations or any changes in events, conditions or circumstances on which any such statement is based, except as required by law.
Contact:
Denis Corin
CEO
Q BioMed Inc.
+1-888-357-2435